Jim Henson
Tweet
Biography

James Maury "Jim" Henson was an American puppeteer, artist, cartoonist, inventor, screenwriter, film director and producer who achieved international fame as the creator of the Muppets. Born in Greenville, Mississippi, and raised in Leland, Mississippi, and Hyattsville, Maryland, Henson began developing puppets while attending high school. While he was a freshman at the University of Maryland, College Park, he created Sam and Friends, a five-minute sketch-comedy puppet show that appeared on television. After graduating from the University of Maryland with a degree in home economics, he produced coffee advertisements and developed some experimental films. Feeling the need for more creative output, Henson founded Muppets Inc. in 1958 (which would later become the Jim Henson Company).

Henson became famous in the 1960s when he joined the children's educational television program Sesame Street, and there helped develop characters for the series. He also appeared on the sketch comedy show Saturday Night Live. In 1976, after scrapping plans for a Broadway show, he produced The Muppet Show. He won fame for his creations, particularly Kermit the Frog, Rowlf the Dog, and Ernie, and was involved with Sesame Street for over 20 years. He also had frequent roles in Muppets films such as The Muppet Movie, The Great Muppet Caper, and The Muppets Take Manhattan, and created advanced puppets for projects like Fraggle Rock, The Dark Crystal, and Labyrinth. During the later years of his life, he also founded the Jim Henson Foundation and Jim Henson's Creature Shop. His involvement in two television programs—The Storyteller and The Jim Henson Hour—led to Emmy Award wins.

Henson died suddenly in May 1990, aged 53, from streptococcal toxic shock syndrome—an unexpected event that was widely lamented in the film and television industries. In the weeks after his death, he was celebrated in a wave of tributes. He was posthumously inducted into the Hollywood Walk of Fame in 1991, and as a Disney Legend in 2011.


Sierra On-Line collaborated with the Jim Henson Company to create the Dark Crystal as a Hi-Res Adventure under the same title, released in 1983, as well as a spin-off titled the Gelfling Adventure.


Credits
Gelfling Adventure (1984-01-01)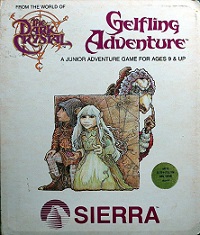 Based on a Story by
Hi-Res Adventure #6: The Dark Crystal (1983-01-01)
Based on a story by